LEARN TO HONOR THE WHOLE OF YOU WITH SELF MASSAGE
BODY CONSCIOUSNESS IS THE NEW EARTH REVOLUTION



❤️

❤️

❤️
You do not need to seek freedom in some distant land, for it exists in your own body, heart and soul.
~BKS Iyengar
_____
Therapeutic Massage is the biggest component of my LIFE.
It is my most turned to self care practice, as it brings me closer & closer to my heart & soul every time I connect with my body.
◊
♦OTHER REASONS I LOVE THERAPEUTIC MASSAGE::
∞Massage helps your body heal itself.
ACCESS GROUND BREAKING RESEARCH ON HOW THERAPEUTIC MASSAGE WORKS
◊
∞Massage helps you connect to your pain perception in an open, curious fashion.
LEARN ABOUT DIFFERENT KINDS OF PAIN
ACCESS PAINOTOPIA AKA MUSCLE & JOINT PAIN EXPLORATION
◊
∞Massage is a gateway to self compassion, self inquiry, self awareness & SELF LOVE.
Your Body is A Portal to Truth. Enter and Be Transformed BY:: Bethany Webster
◊
∞Massage has helped me learn to breathe, to be present & to BE QUIET.
_____
Introducing Therapeutic SELF Massage into your life as part of your Self Care regime, can transform your connection to yourself.
Many people live day to day, for years on end, with chronic, deep muscular pain, headaches, numbness/tingling in their hands & feet, restricted movement patterns from old injuries all because no one ever educated them that direct manual treatment and mobilization of the soft tissues of the body could help them.
We have been taught to adapt to our pain perception by ignoring it or masking it, but we can learn new ways of approaching our body with compassion and care. Some intended surgeries can even be postponed or completely avoided altogether with the application of massage therapy and an active participation in daily self care practices.
I believe it is vital that all human beings are educated about avenues where they can release the natural tension that has built up within their tissue systems.
Registered Massage Therapy & Self Massage are two of those avenues, and I am so grateful to help guide you on this powerful journey into the Self.
Are you in? CLICK HERE TO BOOK A REGISTERED MASSAGE THERAPY TREATMENT WITH ME!
_____
EVERYTHING I SHARE IN MY BLOGS & ON MY SOCIAL MEDIA ARE TOOLS THAT I USE THAT HAVE HELPED ME TREMENDOUSLY TO HAVE A BETTER RELATIONSHIP WITH MY SOFT TISSUES & MY PAIN PERCEPTION.
DAILY SELF MASSAGE & A FOCUSED SELF CARING STRETCHING PRACTICE are simple ways to assist your body to heal itself & to decrease the tensions in your muscles.
_____
 EXPLORE HEAD TO TOE SELF MASSAGE TECHNIQUES ON MY YOUTUBE CHANNEL :: Camp Consciousness!
LEARNING SELF MASSAGE AS A DAILY SELF CARE PRACTICE IS LIFE CHANGING.
+++
____
EXPLORE THIS TRIGGER POINTS MANUAL TO HELP WITH SELF MASSAGE GUIDANCE // explore your pain perception, pain symptoms, referred pain to other parts of your body & the potential muscles involved >>> LEARN TO INSTINCTIVELY MASSAGE YOUR TENSE, RESTRICTED TISSUES WHEN YOU FEEL PAIN >>>
____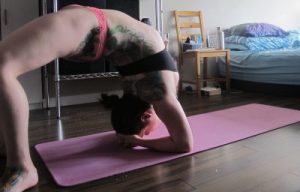 YIN YOGA IS WHERE I BEGAN MY BODY EXPLORATION PRACTICE / THE ART OF LEARNING TO STAY / LEARNING TO UNWIND MY BODY ONE POSE AT A TIME! NO PUSH! NO RUSH! Just exploring my body with curiosity one pose at a time >>> CHOOSE TO MASTER 1 POSE (ASANA) A DAY AND WATCH YOUR BODY TRANSFORM!
_____
"Your body needs to be held and to hold, to be touched and to touch. None of these needs is to be despised, denied, or repressed. But you have to keep searching for your body's deeper need, the need for genuine love. Every time you are able to go beyond the body's superficial desires for love, you are bringing your body home and moving toward integration and unity."
~Henri Nouwen

____
Post ©  Tessa Ridley 2017. All rights reserved.
Image: Unknown Artist! HOLLA!
Terms of Use and Sharing: Feel free to share this information for personal, noncommercial or educational use with all links intact. If you are an organization, institution or individual seeking to use this material for promotional purposes, please ask first. If wanting to include this information and/or the ideas explored therein into your workshop materials, teachings or written work, please cite this article and author(s) accordingly. All information provided, be it through online posts, sessions conducted or this post is non-liable and is not intended to replace professional legal, medical, psychological, psychiatric and/or financial counsel.